Thanks, Facebook, for the memory you shared on February 20th. It was one of those Facebook memories 'on this day' three years ago.
Upon first glance, my response was; "hey cool, didn't realize that was only three years ago" then, as I started to reflect upon what has transpired over the last three years.
Feb. 20th, 2017, my first video was created, "If you're feeling stuck… shoot the puck" (if you haven't seen it). Make sure you watch it right to the end, the blooper reel is hilarious. 😂
I had a great fear of shooting videos and sharing my message into the world.
What if no one likes them?
What if no one watches them?
Who wants to hear from me?
What am I going to say?
What if I get negative feedback? 😧
These were just a few of the myriad of limiting beliefs about starting the process.
But, decided to do it anyway…
Since that day, more than 200 hours of video content has been created. Amazing what can happen with a relentless focus.
Plus, after watching the video again, it sparked another question.
"What's the next thing that needs to get done and shoot the puck"?
For years, I've been promising to created a Podcast, sharing my almost two decades of experience investing in Real Estate.As you may already know the story, nothing, crickets, just empty promises, zero minutes of podcast have been created.  I kept 'shoulding' all over the place for the past couple of years.
So, after rewatching this first video, a decision was made to do something about completing this project.  After a few long days of planning, mind-mapping, picking the music, art, and writing the copy.
Happy to announce the Podcast is ready to launch in April with the first 39 episodes already 'in the can.' 😅
What's the one thing on your list you've been telling yourself you are going to do that you just haven't got done?
What do you need to just to 'shoot the puck' and get it done?
My advice to you is:
Make a decision
Do something about it today
Set a deadline
Then do something about it again tomorrow
Head down and focus on it daily, obsessively.
… Then in a 3, 5, 7 years from now, Facebook will send you a memory for reflection.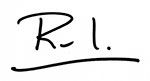 Russell Westcott
#Inspire #Encourage #Love
Book Your FREE Consultation Today!
Private One-on-One Personal Consultations